"These are an absolute joy to use" –Outside magazine
"From a performance-only perspective, Ultimate Direction's FK poles are the best I've ever used." - Outside Online
The FK Trekking Pole shaft is 20mm in diameter at the top, while competitors poles are only 13.5mm. Increasing the diameter doesn't just increase the strength proportionally, it squares the strength, and cubes the increase in stiffness! This important engineering principal has been used to build bicycle frames for 20 years, but incredibly, has almost never been used for trekking poles - until now.
Increasing the diameter provides a massive gain in performance for almost no weight gain. Additionally, the shaft is tapered toward the bottom for a beautifully smooth swing weight, and the lower 20cm of the poles are wrapped with Aramid fabric to resist damage from rocks. There are no moving parts that may break, or that add weight and cost: the pole's fixed length makes it the strongest, lightest and most reliable in existence.
Features
Fixed length to achieve maximum rigidity, durability, and weight savings
Wrist loops provide enhanced comfort and utility
Custom-designed ergonomic grip allows multiple hand positions
Tapered shaft design allows for industry leading strength to weight ratio
Aramid wrapped base for added abraision resistance
Comes with 2 styles of baskets that can be interchanged depending on use on snow or dirt
Specifications
Weight:

Single Pole: 115 g / 4.0 oz
Pair: 230 g / 8.0 oz

Diameter: .79 in / 2 cm
Materials: Carbon pole, EVA foam grip, woven nylon strap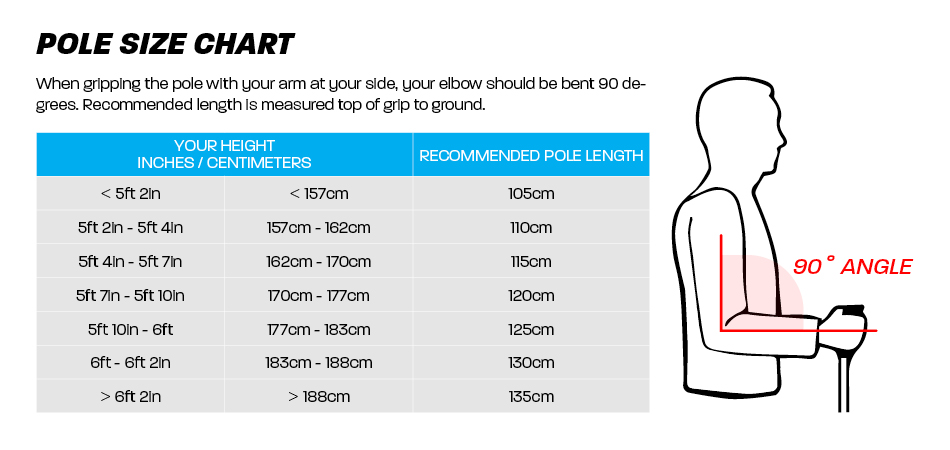 Source: Imported